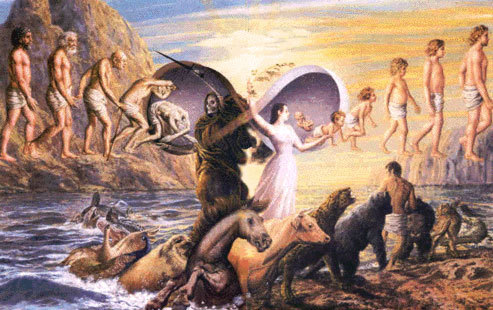 I was jogging at night, along a sidewalk adjacent to a main road, although no cars were in sight. All of a sudden and for no apparent reason, as I felt the cool autumn breeze on my face, I saw the road and my surroundings as if from someone else's eyes. It was a very intense type of deja vu, yet it was clear to me that I, Chaki, had not had this corresponding past experience. It was a brief few seconds of internal recognition that in a past life, I had experienced something identical as a different person. It was a strange feeling that I wrote off until recently, when I began reading about spirituality and reincarnation.
I'm curious to see if my views on consciousness and reincarnation change as I become more spiritual and gain more experience with the non-physical. They may. This post is an explanation of my belief at the present. It's based on many different pieces I've read, so the ideas are not my own. They may sound crazy, but they make a lot of sense to me.
Within each of us, and within every living being, there is a spirit, or a soul. It's our consciousness. Our physical body is just a shell. Our consciousness inhabits our shell for the duration of our physical life, and when our physical body dies, our consciousness separates from the body and rejoins the non-physical realm. The spirit retains all of the information and experiences learned during that incarnation, as well as other incarnations from the past. As a spirit gains more experience through different physical incarnations both in this physical world and others in this universe, as well as other universes, it becomes more enlightened.
In order to understand it all, I think of it spatially. I think of my consciousness as being high up, beyond the sky, reaching down into my physical self. My consciousness has an eternity of experience and wisdom, but only tiny parts are accessible to me when I'm in my physical body. When I meditate deeply and shift my focus completely away from my physical body, I'm more able to access the experience and wisdom of my consciousness because I'm not blinded by the physical, so to speak. We are all able and equipped to separate from the physical. As a matter of fact, we may do it without trying every time we sleep, although we unfortunately retain little or no memory of the separation unless we've trained ourselves to do so. I'm currently working on this myself.
So my spirit, far above, reaches down to the physical incarnation that's typing these words, as well as any number of other physical incarnations spanning the universes. Our spirits may inhabit other people, animals, trees, insects, etc on Earth, at the present time, and it has inhabited countless other living beings in the past.
If it's true that we incarnate in this way, and reincarnate, then it means our spirit, or our higher self, has chosen to incarnate in the form we are now as a way to gain more experience, as well as perhaps to fulfill some purpose. When compared to our eternal spiritual existence, our physical existence is just an insignificant blink of our spiritual eye. Things in this world may seem incredibly important, bad situations may seem horrific and intolerable, and the joys of this world may seem incredible and amazing, but when compared with the totality of our spirits, our physical experiences are quite insignificant. A small blip on our multi-universal radar.
Think of the amount of stress of which the above belief relieves us. First, there's no need to fear death. When our physical bodies die, our consciousness simply rises to the place it was before we incarnated in the first place, and we carry on as we always have and always will, but with more experience. Second, it puts things in perspective. The pain and sadness of our physical lives aren't as big a deal as they seem. We're just here, along for the ride, until our next phase. All we have to do is enjoy the ride and learn as much as we can. I'll be going into much more detail on this topic in the future, but for now, maybe we can just take everything a little less seriously 😉