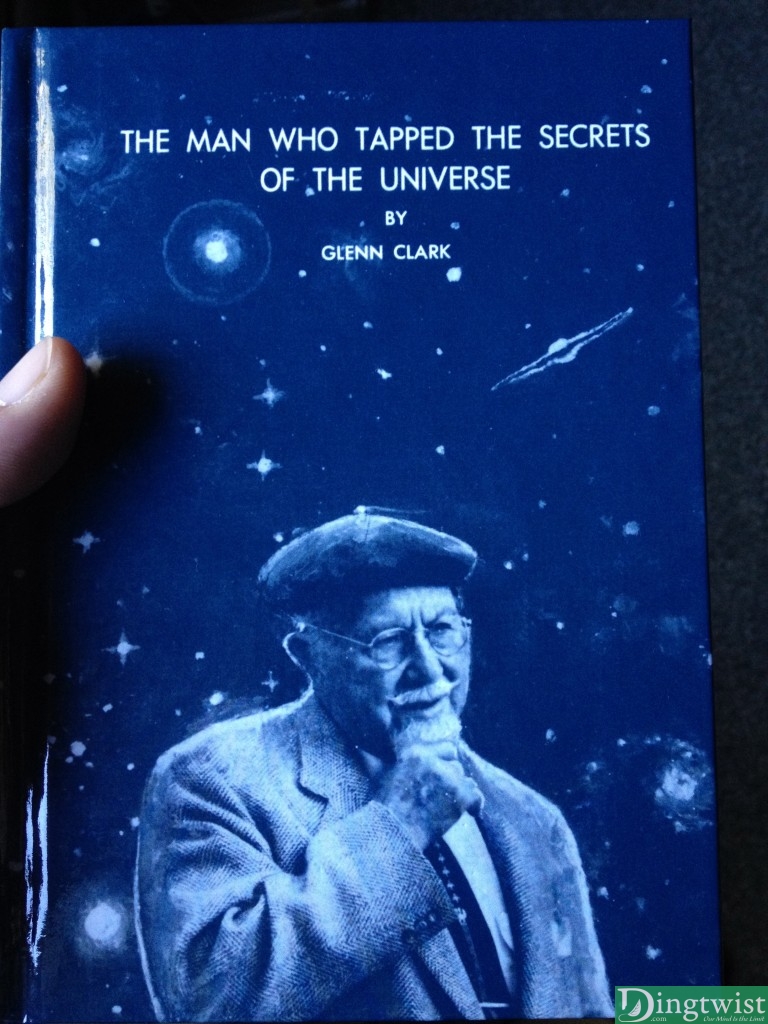 The Man Who Tapped the Secrets of the Universe is a short biography (fewer than 60 pages) of a man I'd never heard of, Walter Russell. I'm not sure why his insights aren't commonly taught in school. At least not in my schools. He was a world-class painter, sculptor, author, architect, figure skater, philosopher, and more. They way in which he became proficient in so many fields was by quite literally tapping into the secrets of the universe. He communed directly with the universe, Mother Nature, God, the Source, whatever you want to call it.
Instead of raving about how much wisdom is contained in these short 60 pages, I'll show you a picture of my copy. I didn't even dog ear all of the passages I wanted to because the previous page was already dog eared.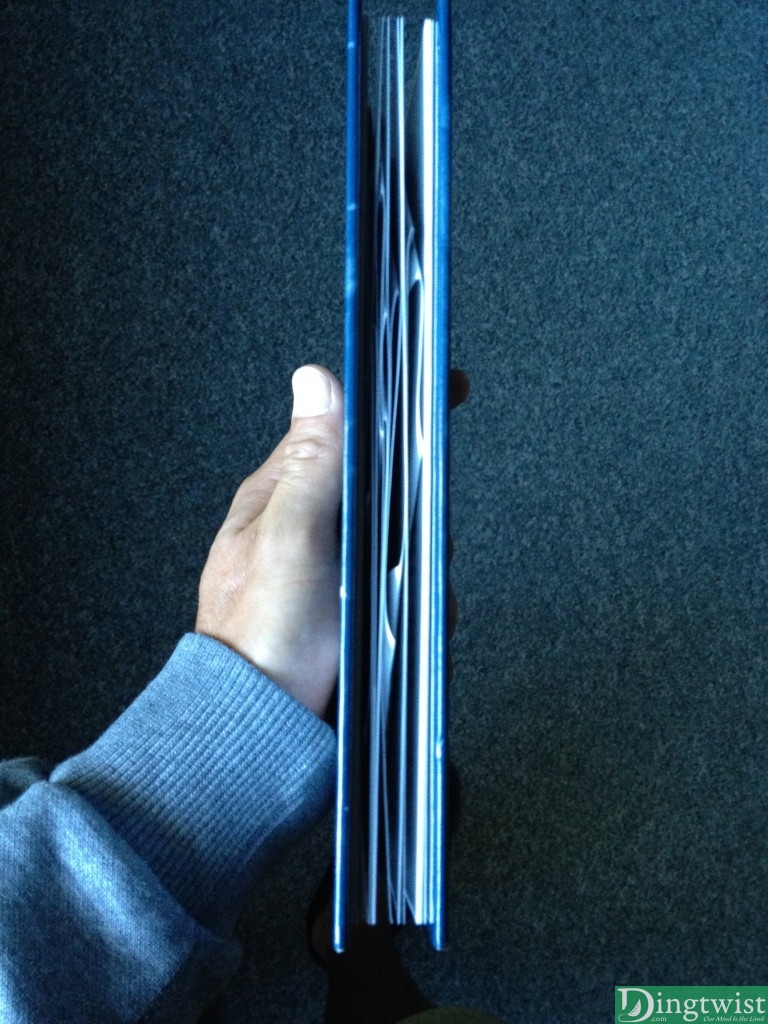 Walter Russell excelled in so many fields by being open to receive universal intelligence. He knew that within him, as within every man alive, was a universal omnipotence. All he had to do was to be open to receiving this information and this power as a physical being through meditation. A lot of what he says closely parallels what Mellen-Thomas Benedict says. I wrote about the latter's incredible near-death experience here.
In this book you will learn the ways in which Mr. Russell received this universal intelligence. Unfortunately, there's no step-by-step process you can do yourself, only the ideas which are necessary in order to receive the intelligence. The process of actually connecting with the universe is very personal, and it's something you must experience on your own. I am currently working on my own abilities and wrote as much here.
Here are some of my favorite quotes from the book:
__________
"You must love anything you do. Do it not only cheerfully, but also lovingly and the very best way you know how. That love of the work which you must do anyhow will vitalize your body and keep you from fatigue."
__________
"I do not recognize these as defeats. They are but interesting experiences of life. They are valuable stepping stones to success. Defeat is a condition which one must accept in order to give it reality. I refuse to give it reality by accepting it. In my philosophy I have written these words: Defeat I shall not know. It shall not touch me. I will meet it with true thinking. Resisting it will be my strengthening. But if, perchance, the day will give to me the bitter cup, it will sweeten in the drinking."
__________
"And the secrets of the universe were unfolded to me in their great simplicity as the doors to the Light opened fully to my consciousness. In less time than it takes to put it into words, I knew all there was to know of the CAUSE of all effect, for there was very little to know."
__________
"We think our bodies are our real selves. Instead of that, our bodies are but the product of our imagings. They are merely machines which operate and are motivated by the thought-waves which spring from our consciousness as water waves spring from the calm sea. That thought energy is focused in our brains just as the spot of light is focused by a lens to become a more brilliant spot of light, gathered together from a large area into a point until it is strong enough to burn. Well, you feel that consciousness or that universal intelligence of space itself because of that sensation focused in your body which deceives you into believing that your body is you. Well, it isn't. Your body is merely a machine made to express the thoughts that flow through you and nothing more. It is but an instrument for you to express your imagings just as a piano is an instrument for a musician to express his imagings. Just as the piano is not the musician so, likewise, your body is not you."
__________
"Inspiration comes only to those who seek it with humility toward their own achievements and reverence toward the achievements of God. With love of your work, love of life, and reverence for the universal force which gives you unlimited power for the asking, you may sit on top of the world if you desire to sit there. Flashes of inspiration come only to those who plug into the universe and become harmonious with its rhythms by communion with it. Inspiration and intuition are the language of Light through which men and God 'intercommunicate.' The universe does not bestow favors upon the few whom it seeks out as its interpreters. It is just the reverse. The universe gives to those who ask without favor. The electric plug which connects you is desire. Edison desired to be informed how to materialize his idea which gave us the electric light. Closely shut up within the temple of himself, he got it a little at a time in flashes which gradually answered his appeal."
__________
"Mediocrity is self-inflicted. Genius is self-bestowed."
__________
"Many have asked if I could more specifically direct them how to kindle that spark of inner fire which illumines the way to one's self. That I cannot do. I can merely point the way and tell you of its existence. You must then find it for yourself. The only way you can find it is through being alone with your thoughts at sufficiently long intervals to give that inner voice within you a chance to cry out in distinguishable language to you, 'Here I am within you.' That is the silent voice, the voice of nature, which speaks to everyone who will listen.
__________
"Lock yourself up in your room or go out in the woods where you can be alone. When you are alone the universe talks to you in flashes of inspiration. You will find that you will suddenly know things which you never knew before. All knowledge exists in the God-Mind and is extended into this electrical universe of creative expression through desire. Knowledge is yours for the asking. You have but to plug into it. You do not have to learn anything; in fact, all you have to do is recollect it, or recognize it, for you already have it as your inheritance."
__________
And my personal favorite:
"I therefore say to you that tiredness and fatigue are effects caused by ignorance of Nature and disobedience to her inexorable law. You may command Nature to the extent only in which you are willing to obey her. You cannot intelligently obey that which you do not comprehend. Therefore I also say, ask of Nature that you may be one with her, and she will whisper her secrets to you to the extent to which you are prepared to listen. Seek to be alone much to commune with Nature and be thus inspired by her mighty whisperings within your consciousness. Nature is a most jealous god. for she will not whisper her inspiring revelations to you unless you are absolutely alone with her."
__________
All of these quotes may seem a bit abstract, but in the context of the book they come to life to enlighten you as a human being. Reading this book truly has the power to enrich your life in a significant way, and I'm sure even more so on the second, third, etc readings. Let me know if you've read it, and what you think.
You can buy it on Amazon here: The Man Who Tapped the Secrets of the Universe