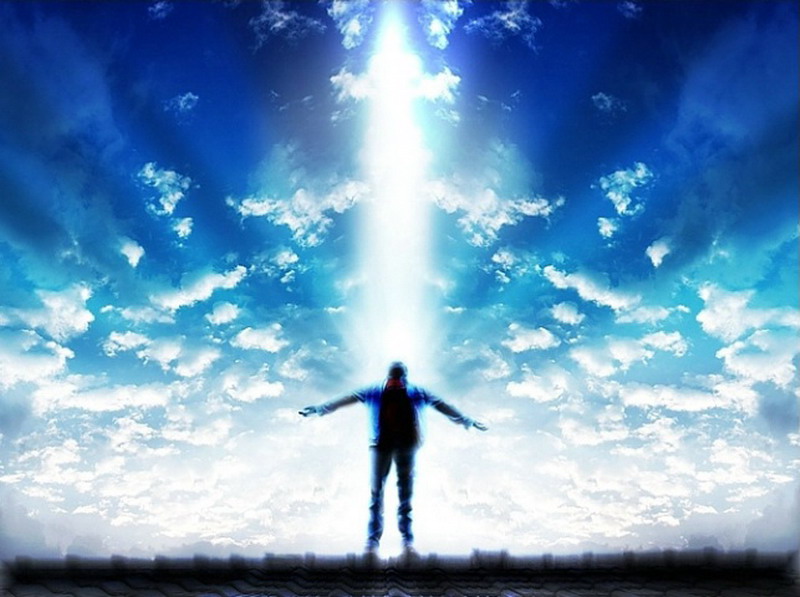 I'm hoping to achieve superhuman status in the near future in that I'll be able to accomplish incredible feats with regularity. These feats will not be limited to any specific category. I'll explain below how I plan to do this so that you can also try for yourself and accomplish everything you set out to do, no matter how improbable, no matter how impossibly impossible it seems.
Ever since I read The Man Who Tapped the Secrets of the Universe and subsequently published this post, a short review and some quotes from the book, I've been experimenting with the main idea in my own life. The idea is: every person has access to universal intelligence. "Universal intelligence" is the term I'll use because it's general and it encompasses all religions. And, that's the term used in the book 😉
"Universal intelligence" can also be described as divine guidance, answered prayers, luck, miracles, or any number of things. Basically, that which helps us accomplish what may seem impossible in light of the physical limitations in our physical world. That which is greater than we are as physical beings, yet fully accessible to us. It's something below (or above if you prefer) the level of our normal waking consciousness. Something that can guide us as physical beings, but which knows none of the physical limitations which restrict the capabilities of our physical bodies.
I've been experimenting specifically with golf because it's an easy method by which to practice the idea. In golf, the goal is very simple: put the ball into the hole. Although the goal is conceptually simple, it can be anything but simple in execution, as every person who has ever tried to hit a golf ball knows. Still, with such a simple and well-defined goal, golf is the perfect means by which to practice accessing universal intelligence. As I'll explain later, the idea need not be restricted to golf or any sport or activity. It can be applied to absolutely anything, no matter how insignificant. Sometimes the results are incredible: you can accomplish feats you had previously thought were impossible.
Golf takes an immense amount of focus in order to perform at the highest levels. It's a complex game. The golf swing is complex. Crazy, in some cases. Most golfers, even some of the best, are very aware of tiny little micro movements in their swings, often obsessing over them, thinking if only they can perfect their swings, they'll play their best and hit the ball where they want it to go, which is ultimately the goal of the game. It is a very simple-sounding goal, but let me assure you, it is very, very difficult to make that ball go where you want it to. Much more difficult than it seems if you've never played. And when you have become familiar with the game and watch the PGA pros at their best, it's mind-blowing to witness how much control they have over that ball. In some cases, you wonder if they are superhuman. In a way, I think they are superhuman when the conditions are right and they are on the receiving end of the flow of universal intelligence.
A few weeks ago I played a tournament and it was the first time I'd played in a while. The last few rounds before that did not go well, and I was a bit concerned I wouldn't play well. The vast majority of golfers have some swing thoughts, usually too many, myself included. Going into that round of golf I decided I would have no swing thoughts whatsoever. I would only focus on the one simple goal: putting the ball into the hole. And I would call upon universal intelligence, to which we all have access, to help me accomplish that goal. The result is that I had one of my best rounds of the year. Although I only finished one under par, I was at one point four under (before losing focus and fucking up a few holes). It was some of the best golf I'd played all year even though I'd been playing only intermittently and poorly at that.
It seemed at some points I was successful in accessing universal intelligence. Before many of my shots I'd say or think in my head something like, "I want to access universal intelligence to help me guide the ball into the hole," but mostly I'd just have the thought that I wanted my subconscious to take over. The subconscious is below the level of our normal waking consciousness, closer to where universal intelligence "resides", if you will, so it's better-equipped to access it and feed it to the wakefully-conscious mind and body. I wanted to let my subconscious, guided in part by universal intelligence, take everything over and make my body do what it had to do to accomplish the goal in spite of the odds, in spite of the numerous physical variables.
As for variables, well, golf has many. You can set up a twenty-foot putt and have it struck identically every time by a machine and not every putt will go in the hole. Slope, spike marks on the green, other imperfections, the direction of the grain of the grass, the moisture on the grass, the wind, and much more. When you're not on the green and chipping to the hole instead of putting, there are even more variables, and they keep increasing in number as you get farther away from the hole. Too many variables for us to overcome if we are just physical beings. However, I fully believe it's possible to tap into something greater than us, something capable of defying probability (and sometimes even known physics – to be discussed in the future on this site), in order to accomplish great feats. Yes, you guessed it: universal intelligence.
On my very first hole, a par 3, I missed the green to the right. My opponent, a friend of mine, had 4 feet for birdie. I got up over the ball, thought about nothing technical, and said in my head, "Put this ball in that hole," while attempting to receive some kind of universal guidance. I focused intensely on the hole, looked back to the ball and just tried to put that ball in the hole. It went in. (Unfortunately, I was not successful in calling upon universal intelligence to make him miss his putt.) Then I birdied the next hole using the same idea, then par, par, birdie, par, birdie. I won't discuss the rest of the round because it wasn't nearly as exciting. I'll just say some 3-putt bogeys happened.
A few days ago I played another tournament. I was in a sand trap about twenty yards from the hole, which was just below a slope. I set up over the ball and said in my head, with fierce determination, "Put this ball in that fucking hole," and opened myself up to receive universal intelligence. I looked at the hole, and back to the ball. I didn't think about where my club would enter the sand, how hard to swing, how to swing, or anything like that. I just wanted to put that fucking ball in that fucking hole, letting my subconscious guide my body to accomplish the goal. I hit the shot, the ball stopped at the top of the slope and trickled dead into the center of the cup. This was one of the rare moments where everything felt right, I felt my focus was there 100%, no distractions, just pure determination and focus. It's an unbelievable feeling, especially when you see the exact result you intended. On top of that, I got the distinct feeling that something beyond me had at least a small part in making the ball go into the hole. I can't describe it or tell you what to look out for in your own endeavors, but will just say that when you feel it, you will know it.
I believe when you focus that intently on a task, when the past and future and your environment are given no energy, when all of your energy is focused like the sun through a magnifying glass on your task, that is when you can receive divine guidance, which I'm calling universal intelligence. In those moments of complete, intense focus, the universe conspires to help you accomplish your goal, especially if you ask it to, or if you at least open yourself up to receive it. Sports is a great example of this because it's so obvious, but this concept really applies to anything.
It applies if you want to make more money, meet the love of your life, improve your physical health, lift a heavy weight at the gym, or anything you want in this world. Of course it's more difficult to apply this concept to a more complex goal like making more money or meeting the love of your life because those goals aren't very specific. With golf, you want to put this ball in that hole. Simple. With other things, there are many different thoughts, many steps, many actions to take.
It's easier to start, as I'm doing, with goals that are conceptually simple. Once you get the hang of that, then you can expand the idea to other areas of your life. I will never stop writing on this website until the day I die, and I will, of course, keep you updated with my progress. As I've said above, I'm just at the beginning, and even with something simple like golf, I only experience that feeling of universal intelligence flowing to and through me occasionally. I am confident, however, that with practice, those experiences will increase in number and intensity.
If you'd like to follow along with my progress and keep me abreast of yours, enter your email below for the Sunday Newsletter, a once-weekly update at noon EST each Sunday, no more, no less.
When I was younger I used to think it was ridiculous when baseball players, for example, would talk about how God or Jesus or whoever helped him win the game. I always thought, "You think 'God' gives a shit about your stupid baseball game? There are kids starving in Africa, innocent girls being raped, but you think he helped you win your stupid game? You're an idiot." But I was thinking about it all wrong. If you believe that we are all just physical shells housing, in a sense, an eternal consciousness, and we willingly incarnate here to gain experience and expand our consciousness, then it makes perfect sense why there's so much suffering on Earth. Inside each of those poor starving children is an eternal consciousness who willingly incarnated thus in order to gain the experience. Evil and suffering are only "bad" because as humans, we see it as such. From the lens, or perspective, of an eternal consciousness (which you are, you're just not focused on that reality at the moment), you would not view suffering in the same way you do as a physically-focused human. Suffering is simply a means by which to gain experience. Perhaps a way to gain empathy.
The point is that if you put your trust in something greater than yourself, and in my opinion, praying to any god, entity, or whatever, is a form of accessing universal intelligence, and if you call upon him/her/it/them to help you achieve a goal, and you focus intently on that goal, you can achieve amazing, amazing things, no matter how trivial they are. Even something as stupid as my sand shot is something the universe will conspire to help you with. It doesn't have to be some grand, philanthropic goal. You can ask for universal guidance and receive it even if you're just trying to pass a stubborn bowel movement, or trying to win the lottery (which is something I plan on doing in the future ;)).
You just need to trust that it will work. After my recent experiments, I definitely feel that something beyond me is, on occasion, helping me do things I wouldn't have been able to do otherwise. This applies personally to golf, billiards, and some other activities I won't mention due to their impropriety. In the future I plan on improving my abilities and receiving guidance in my writing so I can truly enlighten and inspire my readers, but the practice is a bit more complicated with writing because the goal and means by which to accomplish that goal are a bit more complex than in golf, for example. I think I first need to find a quieter, less-distraction-prone space in which to write. I don't know, it'll come to me.
I can only tell you, my faithful, beautiful, sexy readers, that this works. I cannot prove it to you. You can only prove it to yourself. After all, reality is subjective. I hope one day in the near future you try to access universal intelligence in the completion of some task or other, and that you feel what I have felt. That's what it is, a feeling. A feeling that something greater than you, something both inside you and encompassing everything you know and are capable of perceiving, is helping you in some way, small or large, to accomplish that which you desire.
Good luck, my fellow humans.